THE LAST MAGICIAN by Lisa Maxwell
I met Lisa Maxwell at the Bay Area Book Festival, where I found out about her novel, THE LAST MAGICIAN. It debuts July 18, and the premise is knock-your-socks-off amazing: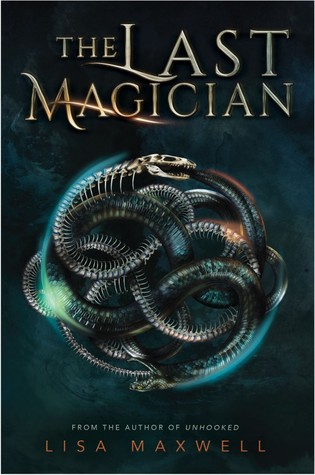 Stop the Magician.
Steal the book.
Save the future.
In modern day New York, magic is all but extinct. The remaining few who have an affinity for magic—the Mageus—live in the shadows, hiding who they are. Any Mageus who enters Manhattan becomes trapped by the Brink, a dark energy barrier that confines them to the island. Crossing it means losing their power—and often their lives.
Esta is a talented thief, and she's been raised to steal magical artifacts from the sinister Order that created the Brink. With her innate ability to manipulate time, Esta can pilfer from the past, collecting these artifacts before the Order even realizes she's there. And all of Esta's training has been for one final job: traveling back to 1902 to steal an ancient book containing the secrets of the Order—and the Brink—before the Magician can destroy it and doom the Mageus to a hopeless future.
But Old New York is a dangerous world ruled by ruthless gangs and secret societies, a world where the very air crackles with magic. Nothing is as it seems, including the Magician himself. And for Esta to save her future, she may have to betray everyone in the past.
According to your website bio, you are represented by Kathleen Rushall at the Marsal Lyon Literary Agency. How did you know Kathleen was the right agent for you?
I knew that Kathleen was the right agent because I'd already had two other wrong ones. Kathleen is actually my third agent. I'd been represented by someone else for SWEET UNREST and then left him to find a new agent for UNHOOKED. Kathleen had offered for UNHOOKED, and when I talked to her about it, I had this gut feeling that she would be an amazing agent…and I picked someone else instead. At the time, she was still a newer agent and the other agent who offered was an agent known for making really big sales. I went with business instead of my gut instinct and I was so, so wrong. The other agent was great, but she ultimately decided not to take UNHOOKED on submission, even after multiple rounds of edits. So I left her and emailed Kathleen…hoping that she would still love the book.
Looking back, I should have gone with my gut instinct the first time around. When I talked with Kathleen on the phone for the first time those many years ago, it just felt right. She was completely professional, but she also felt like someone I could talk to and work with easily. More importantly, she loved my writing…not just the single story, but my writing as a whole. I remember her saying that from reading the first 50 pages of UNHOOKED, she knew I could write anything I wanted. And she knew she could sell it.
Kathleen is the best combination of completely supportive and optimistic, and a tough business woman who knows how to get me the best deal for my books. I wouldn't want anyone else in my corner.
I'm glad you followed your gut! It offers a great reminder to the rest of us to do the same. THE LAST MAGICIAN weaves a beautiful story within a complex world. In what ways did it surprise you as you wrote it?
The thing that surprised me the most was how difficult it was to write. I know…from your question, anyone can tell this is an ambitious and complex story. But I'd been planning it for ages, I had written a 10 page, detailed synopsis of everything that would happen, and I'd done enough research so that I *knew* what Old New York was like. I knew the world, I knew my characters…I should have been able to just sit down and write it. But it didn't work that way.
This book ate time. I would sit down to fix three pages and five hours later, I was still on the first page. There was something about it that was really difficult to nail down, right up until nearly the final draft. I'd never really had that experience writing a book. My first three (and another one I have shelved) wrote themselves pretty easily once I knew where I was going. This one? Not so much.
Some books take longer to get into the light from the darkness, and that often makes me want to read them even more. 
All your books have such great covers. What, in your opinion, are necessary elements a cover should have?
Oh wow. That's a really hard question, and it makes me *really* glad that I'm not the one in charge of designing the covers for my own books 🙂
I think covers have to be visually striking in some way. I think they have to be something that people would want to pick up and then place on their shelves. I'm not sure I have any idea what components make that work—good colors or awesome images? I know that when I saw the cover for THE LAST MAGICIAN, I literally screamed. It felt so alive. I think that's a big part of what makes a good cover—it intrigues the reader and makes them want to know more about what's between the pages.
Definitely. What are some of your current projects?
I am hard at work on the sequel to THE LAST MAGICIAN. It has a name and a cover (!!!) that I cannot wait to share, because I think it's even better than the one for TLM.
I'm also tinkering with a MG fantasy. I need to revise the beginning a bit so we can take it out on another round of submissions.
Pre-order/Buy: BookPassage ~ Amazon.com ~ Barnes & Noble ~  IndieBound
Buy: BookPassage ~ Amazon.com ~ Barnes & Noble ~  IndieBound