A GENTLEMAN'S GUIDE TO VICE AND VIRTUE by Mackenzi Lee
I first met Mackenzi at the launch of A GENTLEMAN'S GUIDE TO VICE AND VIRTUE when she spoke with author Anna-Marie McLemore. I was Anna-Marie's ride, and my car battery decided to die right before I was supposed to leave. If not for a kind city sidewalk paver and his knowledge of cars, I might not have gotten Anna-Marie there in time. There were even wildfires on the freeway on our way there, and the journey started to feel very Illiad-ish. Thankfully, we arrived on time, and intact.
And I'm so glad I went. Not only is Mackenzi a great author, but she's an engaging speaker and brilliant historian. I hope to read her other books, including THIS MONSTROUS THING.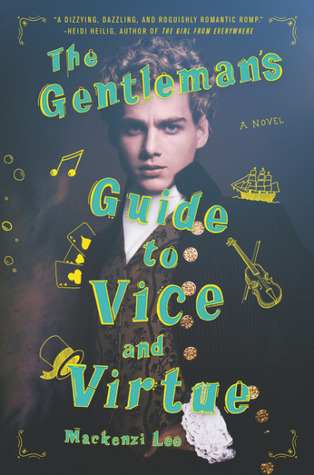 Henry "Monty" Montague was born and bred to be a gentleman, but he was never one to be tamed. The finest boarding schools in England and the constant disapproval of his father haven't been able to curb any of his roguish passions—not for gambling halls, late nights spent with a bottle of spirits, or waking up in the arms of women or men.
But as Monty embarks on his Grand Tour of Europe, his quest for a life filled with pleasure and vice is in danger of coming to an end. Not only does his father expect him to take over the family's estate upon his return, but Monty is also nursing an impossible crush on his best friend and traveling companion, Percy.
Still it isn't in Monty's nature to give up. Even with his younger sister, Felicity, in tow, he vows to make this yearlong escapade one last hedonistic hurrah and flirt with Percy from Paris to Rome. But when one of Monty's reckless decisions turns their trip abroad into a harrowing manhunt that spans across Europe, it calls into question everything he knows, including his relationship with the boy he adores.


I love that you feature #bygonebadassbroads on Twitter. How did this series come about, and what do you love most about writing it?
It came from a lot of the same place as The Gentleman's Guide to Vice and Virtue – my frustration that the stories of anyone other than white, straight, cis men in history is considered niche and not mainstream. Sexism has always existed, but so have incredible women who have fought back and beat the odds and persisted in spite of it. Their stories are often overlooked so the twitter series was my small attempt to share something I'm passionate about in away that felt fun and accessible. I never knew it was going to take off the way it has, and it's been such an incredible passion project. Hearing the response from readers and what the series has inspired has been the best part.
It's truly been an inspiration to us all. And the opening to THE GENTLEMEN'S GUIDE TO VICE AND VIRTUE is one of the best I've ever read. What, in your opinion, is necessary for a good novel opening?
Thank you! The whole books sort of came from the first two lines of the book—when I looked back at my first draft right before the book was published, I realized they hadn't changed at all (the rest of the book changed A LOT). I think the most important thing in a first line is that it sparks a question in the reader. It makes you want to know more, and propels you into the story.
Indeed it does. THE GENTLEMEN'S GUIDE TO VICE AND VIRTUE also reached the New York Times Bestseller list! Congratulations! Where were you when you heard the news?
I was in a hotel room in California, about to jump in the car to drive to my event at Kepler's with Anna-Marie McLemore. I got a text from a friend who works in publishing that just said CONGRATULATIONS!!! And I had no idea what she was talking about. But my editor called a few minutes later and it all made sense.
Wonderful. What are some of your current projects?
I have a book of short essays based on my twitter series about amazing forgotten women in history, Bygone Badass Broads, coming out next March from Abrams, and illustrated by Petra Eriksson, and incredible graphic artist. There's also going to be a sequel to The Gentleman's Guide to Vice and Virtue, which is called The Lady's Guide to Petticoats and Piracy, and follows Felicity's continuing adventures.
Buy: BookPassage ~ Amazon.com ~ Barnes & Noble ~  IndieBound
Buy: BookPassage ~ Amazon.com ~ Barnes & Noble ~  IndieBound