After THE CROWN'S GAME and THE CROWN'S FATE duology, I couldn't wait to see what Evelyn Skye wrote next. Luckily for everyone, CIRCLE OF SHADOWS debuted yesterday, January 22, 2019: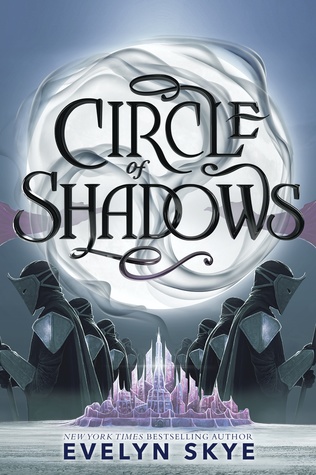 Sora can move as silently as a ghost and hurl throwing stars with lethal accuracy. Her gemina, Daemon, can win any physical fight blindfolded and with an arm tied behind his back. They are apprentice warriors of the Society of Taigas—marked by the gods to be trained in magic and the fighting arts to protect the kingdom of Kichona.
As their graduation approaches, Sora and Daemon look forward to proving themselves worthy of belonging to the elite group—but in a kingdom free of violence since the Blood Rift Rebellion many years ago, it's been difficult to make their mark. So when Sora and Daemon encounter a strange camp of mysterious soldiers while on a standard scouting mission, they decide the only thing to do to help their kingdom is to infiltrate the group.Taking this risk will change Sora's life forever—and lead her on a mission of deception that may fool everyone she's ever loved.
In our last interview, you said you were working on a YA Fantasy. Is that the book that became CIRCLE OF SHADOWS?
It is! I tend not to talk about my works-in-progress when they are book babies, just because the ideas are fragile and not fully developed yet, but now you have it– that YA fantasy I was working on was CIRCLE OF SHADOWS. It's a different kind of book than THE CROWN'S GAME series, in that it's a totally made-up world and lots of characters have magic (compared to The Crown's Game, which was set in a real, historical place, and only a few characters had magic). But it's still got deep friendships and complicated family ties, as well as big, bad fight scenes. I hope my readers enjoy it!
I'm sure we will! I love how the tensions between Sora and Daemon heighten as the plot unravels. Did both characters come to you fully formed, or did they develop as you wrote them?
Oh, gosh, no, Sora and Daemon (and every single character in CIRCLE OF SHADOWS) started out as totally different people than they eventually became. This book was actually a hard one for me to write, because I struggled a lot on what the core plot was going to be. Luckily, I have an amazing editor (Kristin Rens at HarperCollins/Balzer + Bray) who was very patient and who knows me very well, so she helped me find the true story that was buried in the mess of my early drafts. Once I figured out the plot, the characters developed differently than how I'd originally imagined. And because of the challenge that writing this book presented, I'm really really proud of how it eventually turned out.
That's wonderful! What do you think are necessary elements of a good story? 
First and foremost, you have to create memorable characters. If you don't have heroes that your readers care about, no one will bother finishing the book, even if it has a very interesting plot. In my opinion, it's crucial to write a cast of characters who have varying personalities and different desires, and to make sure there are both positive and negative feelings among them–love and hate, admiration and jealousy, trust and doubt. That contributes as much to the tensions in the story as the plot does.
I also think an interesting setting adds to the book. It's not necessary, per se, but it certainly adds to the unique feel of your story. Readers should be able to see and feel the atmosphere of the place where the story is set.
And then, of course, you need a riveting plot, one that keeps readers turning pages. This doesn't mean you need a relentless pace, but it does mean that your audience wants to know what's going to happen. They might have to put the book down to go to school or to sleep, but they should be thinking about your characters and your story even while they're away from the book. That's when you know you've succeeded in writing a good story.
Indeed. You've managed to keep publishing throughout your writing career. What has kept you going when things get tough?
I love writing more than anything else I've ever done. I get to make stuff up for a living! I get to provide people with an escape from the real world when they're immersed in the pages of my books. And I get to bring joy into their lives. Remembering this keeps me going when I'm having trouble writing. I have one of the best jobs in the world, and I wouldn't trade it for anything else. I wish for everyone out there this same kind of happiness in their work, whether it's writing or programming software or fighting forest fires or building satellites.
Before I go, I just wanted to thank everyone in the book community. Thank you for reading books. Thank you for blogging, bookstagramming, booktubing, selling books, telling friends and family about the stories you love, and loving our characters and made-up tales. You are magic, and I adore you all.
Buy: BookPassage ~ Amazon.com ~ Barnes & Noble ~  IndieBound
https://www.karenbmccoy.com/wp-content/uploads/2017/06/Evelyn-Skye-head-shot-high-res.jpg
4256
2832
Karen McCoy
https://karenbmccoy.com/wp-content/uploads/2018/06/KarenSigSmall.png
Karen McCoy
2019-01-23 18:52:40
2019-01-24 02:53:39
CIRCLE OF SHADOWS by Evelyn Skye