I had the fortune of meeting Wendy and getting to know her new book at this year's Bay Area Book Festival. Needless to say, I bought EVERLAND immediately, and was instantly drawn in: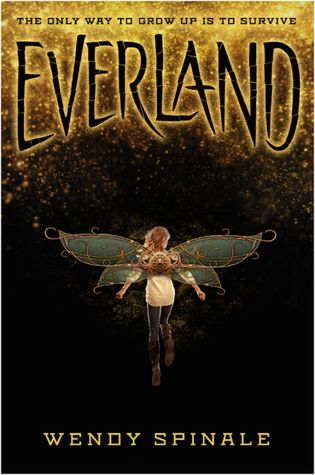 London has been destroyed in a blitz of bombs and disease. The only ones who have survived are children, among them Gwen Darling and her siblings, Joanna and Mikey. They spend their nights scavenging and their days avoiding the ruthless Marauders — the German army led by Captain Hanz Otto Oswald Kretschmer.
Unsure if the virus has spread past England's borders but desperate to leave, Captain Hook hunts for a cure, which he thinks can be found in one of the survivors. He and his Marauders stalk the streets snatching children for experimentation. None ever return. Until the day they grab Joanna. As Gwen sets out to save her, she meets a daredevil boy named Pete. Pete offers the assistance of his gang of Lost Boys and the fierce sharpshooter Bella, who have all been living in a city hidden underground. But in a place where help has a steep price and every promise is bound by blood, it will cost Gwen. And are she, Pete, the Lost Boys, and Bella enough to outsmart Captain Hook?
You've had quite the journey, from Disney, to Kinesiology to freelance writing. Which parts of your journey taught you the most, and what did you do to keep motivated through it all?
I've had a phenomenal life and every part of it has contributed to who I am today. I am so grateful for the experiences I've had and for the people I've met along the way. I'm highly motivated by the people I surround myself with. They are driven, inspirational, and remind me that life is precious and to never take for granted the great things I've been given.

Which makes you inspirational to others too! I loved the world-building in EVERLAND. What did you enjoy most about writing it, and what part was the most challenging? 
My favorite scenes to write were the chapters within the Lost City. I ended up have to cut about two chapters of the original manuscript because we decided that it wasn't YA enough. But those Lost Boys are charming and the city they built is magnificent. Hook was the most challenging character to wrap my head around. I knew he was my villain, but that he wasn't your traditional bad guy. He's complex, confused, and I wanted the reader to almost be sympathetic. In order to do that, I had to create this tragic backstory. As a mother, it was difficult to get in touch with that horrible, wicked mother of his. I adore kids and Hook's childhood was awful.
That depth is what sets this story apart–in addition to your flawless world-building. Speaking of creative spaces, I love the design of your website. What advice, if any, do you have for authors looking to expand their online platforms? 
Thanks! I found an amazing website designer through xuni.com. I think finding ways to put your work out in the world is important. I was blogger for a short time and also worked as a online news journalist before I started writing books. There are a lot of online writing communities such as Wattpad that allow you to upload your writing. Also, social media plays a huge part in getting your name out in the world. I've found Facebook, Twitter, and Instagram to be excellent avenues to reach out the readers, writers, librarians, and book bloggers. The writing community is such a positive group of people and a great resource when it comes to promoting. They are like virtual cheerleaders, marketers, and publicists. Engage with others who love to read and write books.
It's a beautiful community–and I love how you encourage writers to get rid of that word 'aspiring'! What are some of your current projects? 
I'm currently under contract with Scholastic for two more books in the EVERLAND series as well as two e-shorts. I've just turned in my latest revision for book two to my editor and am currently working on the first e-short. The e-short is tentatively set to come out either late this year or early next year. It will be a short read about the backstory of one of the EVERLAND characters. Book two is expected out early summer 2017.
Thanks again for having me stop in. Those were great questions and I appreciate you and your readers for taking the time to get to me and my little world of EVERLAND a bit more.
Thank you! EVERLAND is gorgeous and I hope lots of people will experience it!
Buy: BookPassage ~ Amazon.com ~ Barnes & Noble ~  IndieBound
https://karenbmccoy.com/wp-content/uploads/2018/06/KarenSigSmall.png
0
0
Karen McCoy
https://karenbmccoy.com/wp-content/uploads/2018/06/KarenSigSmall.png
Karen McCoy
2016-07-06 19:25:00
2017-01-27 01:44:24
EVERLAND by Wendy Spinale