SKY IN THE DEEP by Adrienne Young
SKY IN THE DEEP doesn't debut until next year, but I'm so excited about the premise and story that I couldn't wait to feature it. In addition, Bustle just featured SKY IN THE DEEP as one of its 27 most anticipated YA Fantasy Books hitting shelves in 2018.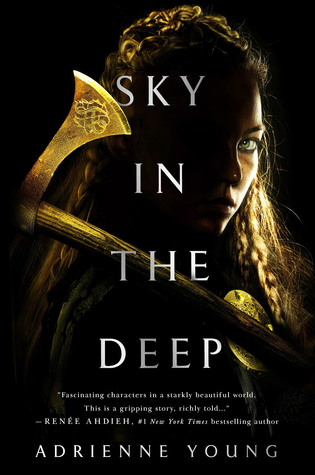 Seventeen-year-old Eelyn's world is war. Raised to fight alongside her Aska clansmen in a generations-old blood feud against the Riki, her life is brutal but simple: fight and survive. Until the day she sees the impossible on the battlefield—her brother, fighting with the enemy—the brother she watched die five years ago.
Faced with her brother's betrayal, she must survive the winter in the mountains with the Riki if she wants to make it back to the fjord after the thaw. But when she begins to see herself in the people she's been taught to hate, the world Eelyn once knew begins to crumble. And after the village is raided by a ruthless clan many believe to be a myth, Eelyn is given no choice but to trust Fiske, her brother's friend who has tried more than once to kill her. Together, they must end the blood feud between their clans or watch their people be slaughtered.
On to the FAQ page on your website, you said, "I didn't pursue publication until I was 26 and it took several books and many, many rejections before I sold SKY IN THE DEEP." What kept you going through those many rejections, and how did you prioritize which projects to focus on? 
Honestly, I had to learn to let go of the first project that never sold. It was really hard because I'd put so much of myself into it and I'd learned how to write a book through that experience. I was really attached to it and it took a while to finally admit to myself that it was time to move on. I studied the market a lot more and made my best guess about what would work and which idea inspired me the most and that's how I decided where to go next. As far as perseverance in rejection, I'm fortunate enough to have people in my life that didn't let me lose sight of my dream. It's really easy to give up when you're facing so many obstacles, and I needed those voices around me pointing me in the right direction when it was most difficult.
Those voices are necessary–and I'm glad they were there. THE SKY IN THE DEEP is Viking-age inspired fantasy. What about the Viking age do you find most compelling, and in what ways does Eelyn find her place within that world? 
So, I'm a huge fan of history in general. There really isn't a culture or time period that doesn't interest me, but I do love the Viking culture for many reasons. I think they were culturally very rich and one of the things that are most compelling to me is the role of women in that society. I wouldn't say that women had equal rights, but they definitely had more than most of the women during that time in that region of the world. I find it fascinating. Eelyn finds a place in that world as a warrior, fighting right alongside the men of her clan. We also see female spiritual, community, and political leaders in this story and I love that.


Me too. And I love your monthly newsletter! How do you determine the kind of content that is included each month, and what do you recommend to writers wanting to start a mailing list? 
I am not really a fan of newsletters myself, so when I was developing the format, I tried to only include things that I would want to read. And I also try to keep things short and sweet! No need to ramble. If you're wanting to start your own, I say just be authentic. Be yourself and let it come through in your newsletter, but be sure to edit. Less is always more.
Indeed. What are some of your current projects?
Right now I am working on a companion novel to Sky in the Deep that I am really excited about! After that, there are a lot of ideas I want to get cracking on but they are all under wraps for now.
Buy: BookPassage ~ Amazon.com ~ Barnes & Noble ~  IndieBound