THE HAZEL WOOD by Melissa Albert
When I first met Melissa Albert at a conference, in line for a food truck, little did I know that her book, THE HAZEL WOOD, would be a fantasy story that would knock my world right open. (It's set to debut on January 30, and I just finished reading the ARC.) The book is so deliciously complex, that I'm sure many readers will want to dig into it again and again.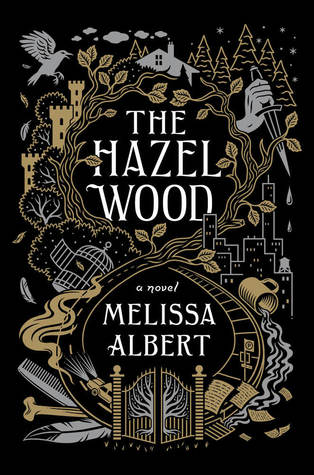 From Goodreads:
Seventeen-year-old Alice and her mother have spent most of Alice's life on the road, always a step ahead of the uncanny bad luck biting at their heels. But when Alice's grandmother, the reclusive author of a cult-classic book of pitch-dark fairy tales, dies alone on her estate, the Hazel Wood, Alice learns how bad her luck can really get: her mother is stolen away―by a figure who claims to come from the Hinterland, the cruel supernatural world where her grandmother's stories are set. Alice's only lead is the message her mother left behind: "Stay away from the Hazel Wood."

Alice has long steered clear of her grandmother's cultish fans. But now she has no choice but to ally with classmate Ellery Finch, a Hinterland superfan who may have his own reasons for wanting to help her. To retrieve her mother, Alice must venture first to the Hazel Wood, then into the world where her grandmother's tales began―and where she might find out how her own story went so wrong.





Review:
What makes this story especially fascinating is that doesn't begin with the protagonist–instead, it starts with an article about the Alice's mother Ella, and how the latter was "raised on fairy tales" by Alice's grandmother, Althea Prosperine, author of Tales from the Hinterland. This approach offers a different, more realistic angle of how fairy tales might actually affect real people in their various, fractured ways. Alice, in her own way, has led a very fractured life, never staying in one place for too long, and unable to make real connections with anyone else besides Ella. This is why it's so viscerally painful when Ella goes missing–Alice needs to find the one person she has a connection with. In the process, she gets mixed up with Ellery Finch, an admitted "fan boy" of Althea's; he even has his own copy of Tales from the Hinterland. Finch is Alice's key in finding a past that her mother is now engulfed in–a past that ultimately affects Alice's future. Overall, the characters are extremely well fleshed out, and the descriptions are palpable enough taste how bitter Alice's life is. And while the plot is a bit slow-going at first, it also unfolds in a realistic way, interspersed with a few of Hinterland's tales, a few of which are so gritty and terrifying that they edge more toward horror than fantasy. And the twist at the end, which I won't give away here, is so intriguing that I am determined to re-read the book again to see if there were any pieces I missed. This book seems to be getting a lot of buzz, and rightly so; not only is it pushing the envelope of fantasy writing, it's a story that grabs a reader from the beginning and doesn't let go. I can't wait to see the next in the series, as well as other stories Melissa Albert comes up with.
Buy: Book Passage ~ Amazon ~ Barnes and Noble ~ Indiebound