I didn't know Alyson Noel had a new book out (shame on me) until I saw her at this year's Bay Area Book Festival. I bought it right away, and devoured it immediately. UNRIVALED, the first in the Beautiful Idols series, takes a unique look at the darker side of Hollywood, fame, and partying.
Here's the book cover and blurb: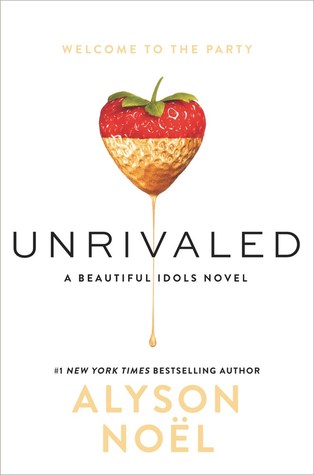 Everyone wants to be someone.
Layla Harrison wants to leave her beach-bum days for digs behind a reporter's desk. Aster Amirpour wants to scream at the next casting director who tells her "we need ethnic but not your kind of ethnic." Tommy Phillips dreams of buying a twelve-string guitar and using it to shred his way back into his famous absentee dad's life.
But Madison Brooks took destiny and made it her bitch a long time ago.
She's Hollywood's hottest starlet, and the things she did to become the name on everyone's lips are merely a stain on the pavement, ground beneath her Louboutin heel.
That is, until Layla, Aster, and Tommy find themselves with a VIP invite to the glamorous and gritty world of Los Angeles's nightlife and lured into a high-stakes competition where Madison Brooks is the target. Just as their hopes begin to gleam like stars through the California smog, Madison Brooks goes missing. . . . And all of their hopes are blacked out in the haze of their lies.

Review:

As someone who is into pop culture, this title had definite appeal for me, and I can see why it made the New York Times Best Seller List. This multiple-POV story follows Hollywood teens who are diverse, strong-willed in different ways, and hungry for opportunities. They find one in Ira Redman's stiff nightclub competition–where getting "gets" will lead to possibilities none of them anticipated. Awesome page-turning plot aside, the writing in this book is absolutely gorgeous. There were way too many examples of unique turns of phrases, but one of my favorites was, "In a city that feeds off youth and beauty, Hollywood Boulevard more closely resembles a former screen siren who's seen better days." In addition to the wonderful writing, the fully fleshed-out characters were still compelling despite not always being likable. A difficult feat for any author, and Alyson Noel not only ensures that we'll follow them wherever they go, but she seamlessly weaves their stories together into a whirlwind plot–I'm still reeling from the surprise ending! I won't give away any spoilers, but suffice to say this book was beautiful in its unpredictability. I can't wait until the next installment comes out!
To grab a copy of UNRIVALED for yourself, feel free to click the links below:
Buy: BookPassage ~ Amazon.com ~ Barnes & Noble ~  IndieBound
https://karenbmccoy.com/wp-content/uploads/2018/06/KarenSigSmall.png
0
0
Karen McCoy
https://karenbmccoy.com/wp-content/uploads/2018/06/KarenSigSmall.png
Karen McCoy
2016-08-16 00:49:00
2016-08-16 00:49:00
Book Review: UNRIVALED by Alyson Noel