I was intrigued by FIRSTS when it came across my desk as an ARC. I started reading the first chapter…and then I couldn't stop. Not only does this book have great characterization and voice, but it tactfully handles a difficult topic, and will likely spur necessary conversations among teens. And, oh yeah, it already has two holds within my library system. Have a look: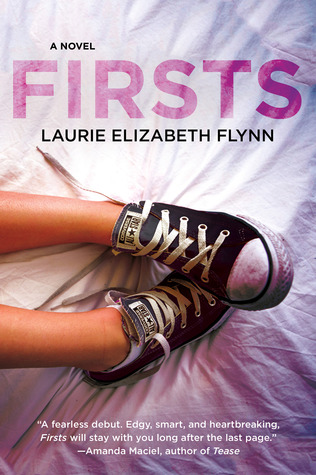 Seventeen-year-old Mercedes Ayres has an open-door policy when it comes to her bedroom, but only if the guy fulfills a specific criteria: he has to be a virgin. Mercedes lets the boys get their awkward, fumbling first times over with, and all she asks in return is that they give their girlfriends the perfect first time- the kind Mercedes never had herself.
Keeping what goes on in her bedroom a secret has been easy- so far. Her absentee mother isn't home nearly enough to know about Mercedes' extracurricular activities, and her uber-religious best friend, Angela, won't even say the word "sex" until she gets married. But Mercedes doesn't bank on Angela's boyfriend finding out about her services and wanting a turn- or on Zach, who likes her for who she is instead of what she can do in bed.
When Mercedes' perfect system falls apart, she has to find a way to salvage her reputation and figure out where her heart really belongs in the process. Funny, smart, and true-to-life, FIRSTS is a one-of-a-kind young adult novel about growing up.

Laurie was also kind enough to answer some interview questions:
According to your website bio, you learned that you'd rather write fiction while in journalism school. Can you tell us more about how you came to this conclusion and about your publishing journey in general?
That's a great question! Like many authors, I've always been a writer in some capacity— I vividly remember being a fourth-grader spinning stories in class and running out of paper to write my crazy tales on. And if I'm being honest with myself, I knew I always wanted to be a novelist. But I convinced myself it was too farfetched, so I did what I thought was the next best thing—I went to university for English Literature, and later attended journalism school. It was when I was in the journalism program that I realized I'm not wired for hard facts and news reporting. I wanted to make up stories about the people in my head. I wanted to tell the stories of those characters, who already felt real to me.
I started writing seriously with the goal of being published in 2012. I wrote two New Adult novels, both of which I ultimately shelved. With my third manuscript, Firsts, which was my first attempt at YA, I got an agent, then a book deal. My journey to publication didn't happen overnight, but that makes me appreciate it a lot more.
Not only that, it offers proof that there are no wasted words. Speaking of FIRSTS, I thought you did a really good job capturing the awkward, fumbling love scenes. What about these scenes was most challenging to write?
Thank you so much for saying that. To be honest, those scenes were really fun to write! I did my best to tap into the awkwardness you feel as a teen interacting with the opposite sex, sometimes for the first time. Too often, sex is depicted as perfect and seamless, romantic and playful in the media, and I wanted to show the other side. The awkward, messy, clumsy, difficult parts, because that's more accurate to life. I want to be as honest as possible as an author and show the reality, not the dream.

That's something many of your readers (myself included) will appreciate. I also anticipate that FIRSTS will generate a lot of conversations between teens about their first time. What would you tell parents and librarians who might have questions about the story before reading it?
I'd tell them that although sex is a part of the story, it's definitely not the whole story. This is a book with sex in it, but it's not a book about sex. It's the story of a girl trying desperately to find control the only way she knows how. It's about friendship and finding yourself and the damaging effects of rumors and the scars people wear on the inside.
Such a broad audience appeal will entice librarians as well. What are some of your current projects?
After Firsts, I wrote another YA contemporary. It's about a girl whose best friend disappears after a blowout party, and the realization that both girls were keeping huge secrets from each other—secrets that might play a role in the disappearance. Right now, I'm also working on two other YA contemporaries. One is from a boy's POV, and the other is pure trouble!
Can't wait to find out more about "pure trouble"! Thanks Laurie, for such a great interview. 
To grab FIRSTS for yourself, feel free to click the links below:
Buy:  Amazon.com ~ Barnes & Noble ~  IndieBound
https://karenbmccoy.com/wp-content/uploads/2018/06/KarenSigSmall.png
0
0
Karen McCoy
https://karenbmccoy.com/wp-content/uploads/2018/06/KarenSigSmall.png
Karen McCoy
2016-02-10 14:00:00
2017-01-27 01:44:24
FIRSTS by Laurie Elizabeth Flynn