I first heard about THE WEIGHT OF FEATHERS from some of the Sacramento Youth Services librarians. Then, as luck had it, Anna-Marie stopped by the library one day. As soon as I learned more about her and her book, I knew a feature was in order. She weaves together a beautiful story, and her touches of magic are both subtle and inspired. Have a look for yourself: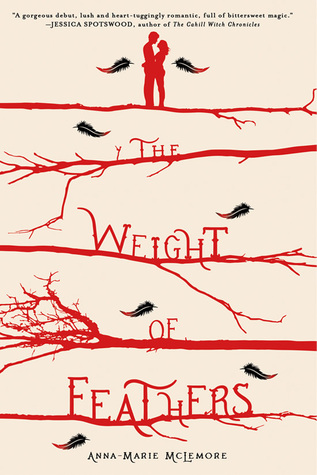 For twenty years, the Palomas and the Corbeaus have been rivals and enemies, locked in an escalating feud for over a generation. Both families make their living as traveling performers in competing shows—the Palomas swimming in mermaid exhibitions, the Corbeaus, former tightrope walkers, performing in the tallest trees they can find.
Lace Paloma may be new to her family's show, but she knows as well as anyone that the Corbeaus are pure magia negra, black magic from the devil himself. Simply touching one could mean death, and she's been taught from birth to keep away. But when disaster strikes the small town where both families are performing, it's a Corbeau boy, Cluck, who saves Lace's life. And his touch immerses her in the world of the Corbeaus, where falling for him could turn his own family against him, and one misstep can be just as dangerous on the ground as it is in the trees.
Anna-Marie also answered some interview questions!
You bring a lot of richness to your writing, and your ability to seamlessly craft words together completely blew me away. Which authors were influences for you, and can you tell us more about your writing and publishing journey?
Thank you so much! So many authors of magical realism inspire me: Allende, Marquez, Coelho, Esquivel, Belli, Lorca…I come back so often to their novels, short stories, poetry, and plays. My heritage plays a role, either in the forefront or in the background, of everything I write, and I feel blessed to be able to be open about being Latina, and about being queer, in the book community. Book lovers—readers, book bloggers, publishing professionals—are such lovely people to get to know, and I'm grateful for how many I'm getting to meet!
And I'm grateful you brought this lovely book into the world! I especially loved how THE WEIGHT OF FEATHERS drew on magical realism to enhance the dynamic between the Corbeaus and Palomas as rivaling circus families. What inspired the symbolic pairing of feathers versus fins, and what do you want readers to take away from the story?
Years ago, my father told me about a mermaid show he'd seen when he was in his twenties. Ever since I've wanted to write a story about performing mermaids, but it wasn't until a photographer friend had me out in the woods while wearing a set of wire and cloth wings that the idea for the book came to me. Women swimming in mermaid tails, and winged tree performers. The story grew from those two images coming together.  The Palomas are the performing mermaids, and the Corbeaus are the winged tree-climbers. But just as important as their circuses are their cultures. The Palomas are Mexican-American, and the Corbeaus are French-Romani. Lace and Cluck's heritages are as central to their lives as their families' professions. Lace and Cluck have to find each other and see each other even through the prejudices they've been taught. And that's what I hope readers take from this story, that we have to find each other and see the beauty in each other, especially in those different from us.

Definitely–and this is even more pronounced with the dual points-of-view between Lace and Cluck. I loved the intimate insight into both families, especially Lace's. How did this develop as you wrote, and what experiences, if any, shaped the story overall?
Speaking from my own experience, when you grow up in a big, closely knit family, they're your world. What they believe is what you believe. Lace accepts that her body should be different than it is because she and her cousins measure themselves by their older relatives' opinions. The things our families teach us may not be what we believe throughout our lives, but they stay with us even as we define who we are.
Beautifully put. And you've captured this in really relatable ways, especially with Lace's descriptions of her "soft" body. What are some of your current projects?
I'm current working on another book that's about new characters, but has some of the same elements as THE WEIGHT OF FEATHERS—magical realism, multicultural themes, and a small-town setting. I'll be sharing more soon, but for now I can tell you that I'm especially excited because this book will also have LGBT themes.
Thanks so much for having me, Karen!
And thanks for being here, Anna-Marie!
To grab your own copy of THE WEIGHT OF FEATHERS, feel free to click any of the below links:
Buy:  Amazon.com ~ Barnes & Noble ~ IndieBound
          Books-a-Million ~ iBooks ~ Powell's
         
         
https://karenbmccoy.com/wp-content/uploads/2018/06/KarenSigSmall.png
0
0
Karen McCoy
https://karenbmccoy.com/wp-content/uploads/2018/06/KarenSigSmall.png
Karen McCoy
2015-11-04 14:00:00
2017-01-27 01:44:25
THE WEIGHT OF FEATHERS by Anna-Marie McLemore