I first got to know Aimee through a Facebook group for YA authors, and I was especially intrigued by her book, EVERY UGLY WORD, and how it addressed bullying in high schools. Have a look: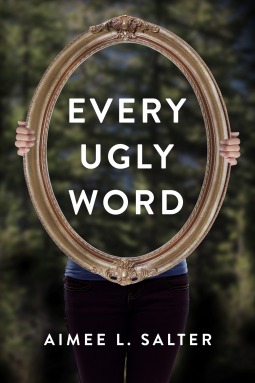 When seventeen-year-old Ashley Watson walks through the halls of her high school bullies taunt and shove her. She can't go a day without fighting with her mother. And no matter how hard she tries, she can't make her best friend, Matt, fall in love with her. But Ashley also has something no one else does: a literal glimpse into the future. When Ashley looks into the mirror, she can see her twenty-three-year-old self.
Her older self has been through it all already—she endured the bullying, survived the heartbreak, and heard every ugly word her classmates threw at her. But her older self is also keeping a dark secret: Something terrible is about to happen to Ashley. Something that will change her life forever. Something even her older self is powerless to stop.
According to your website bio, you started out as a self-published author. What do you like most about self-publishing, most about traditional publishing, and what have you learned in the process of publishing through both avenues?
Yes, my first release was BREAKABLE, which was acquired by Alloy Entertainment (they do Vampire Diaries, Pretty Little Liars, The 100, etc).
The advantage to self-publishing is definitely control. You control cover, design, timeline, everything! No waiting around or debating the merits of changes.
However the downside of self-publishing is also that you control everything. If you don't do it, it doesn't get done. There is a ton of work.  And on top of that, it's only your ideas–or those from people you can afford to pay. There's no such thing as free expertise.
Self-publishing taught me that I can write. But also that I work best as part of a team. I found the isolation of self-publishing very difficult. And the doors that are still not open to unproven indie writers incredibly frustrating. However, I was very proud of what I produced. And it paid off, since the book got picked up.
The thing I love about the traditional model of publishing is how much expertise is on hand, and invested in you as a writer. I'm a midlist author (no big advances, or fancy tours!) yet my covers were handled by design professionals specifically educated and trained in the vagaries of book covers. My editing was done by a woman with almost twenty years experience, who edited some of the most successful YA series in the last decade, and my marketing and distribution are spearheaded by the single largest book retailer in the world.
On a creative level, I couldn't have had a better team around me. And my writing has improved by leaps and bounds because of it. My editor was able to hone in on what I was trying to achieve with my books, cut out the dross, and focus my energies on the scenes and characterizations that would reveal my story best to readers. She's taught me how to plot effectively, how to identify unnecessary words (of which I have always had A LOT), and how to champion my stories. I've learned to trust my creative instincts, while also trusting that those helping me achieve them offer advice for my good–and the good of my characters. I've taken some risks based on my editor's advice. And it's paid off.
I owe a lot to Alloy. They've essentially apprenticed me as a writer.
And your stories are so compelling. EVERY UGLY WORD takes a unique glance at bullying within high schools–and I love how Ashley's twenty-three-year-old self appears in the mirror. What would your twenty-three-year-old self say to your teen self?
Honestly, in terms of advice, the Ashleys at seventeen and twenty-three were based on myself at those ages. Not their personalities, but the things they felt and expressed were very much a picture of the inside of my heart. So I guess the entire book is the answer to that question, ha!
Seriously, though, I put a lot of the insight I'd gained as an adult into the mouth of Older Ashley. And I put the distrust I experienced as a teen in the mind of younger Ashley. The two key pieces of advice or insight that Older Ashley offers which were essentially what drove me to write the book, were:
– You can't control how other people hurt you, but you can control how you hurt yourself.
– People you love should always be more important than people who judge you.
Wonderful advice, and helpful to people of all ages. Your novel DARK TOUCH deals a great deal with empathy, and the ability to feel the pain of others. What do you hope readers will gain from Tully's journey?
In DARK TOUCH Tully has no control over her emotions being "transmitted" to people she touches. It makes her incredibly vulnerable, especially as she's mainly surrounded by very unhealthy and selfish people.
There's kind of two layers to what I hoped to achieve with that story. Firstly, it's a letter to anyone who has dealt with abuse, exploitation, or an addict in the family. I want them to know I hear them and they aren't alone. Secondly, Tully remains my favorite character I've ever written. She's abrasive, defensive, and fatalistic. But those are walls that developed in defense of her very tender heart. I guess I would hope that people might recognize Tully in those around them and be willing to extend people like her some grace. In real life that kind of hard exterior is often hiding a lot of pain and fear.
I'm glad that Tully offers such a great example, and that people grappling with pain and fear can be inspired by her story. What are some of your current projects?
I'm currently working on two very different YA novels:
I recently completed the (very) rough first draft of HUSH–the story of a girl who blacks out whenever she loses her temper, and wreaks havoc on anything/anyone nearby. (One of these episodes ended in her father's death, so she's dealing with a lot.) January is probably the funniest character I've written, in that snarky, sarcastic way. And she's falling for the coolest guy…
The second project I'm drafting right now is a departure from other books I've had published. It *kind of* falls into the fantasy/sci-fi realm. But really it's just a story about a famous guy, and a homeless girl falling in love–and sticking it to the man. While being hopelessly lost in the culture shock of their vastly different worlds.
Those both sound great! Thanks, Aimee, for putting such great stories out into the world.
To buy your own copies of EVERY UGLY WORD and/or DARK TOUCH, feel free to click the links below:
Buy: BookPassage ~ Amazon.com ~ Barnes & Noble ~  IndieBound
Buy: Amazon.com


And to find out more about Aimee herself, be sure to check out her website: 
http://www.aimeelsalter.com/
https://karenbmccoy.com/wp-content/uploads/2018/06/KarenSigSmall.png
0
0
Karen McCoy
https://karenbmccoy.com/wp-content/uploads/2018/06/KarenSigSmall.png
Karen McCoy
2016-06-14 20:25:00
2017-01-27 01:44:24
EVERY UGLY WORD by Aimee L. Salter